Northern Nigeria Trip Report (YWAM Jos, Abuja, and YWAM Kaduna)
You can find additional photos with captions on our "Pictures and Videos" page under the heading "Trip to Northern Nigeria."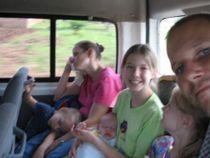 We had a wonderful trip in Northern Nigeria.  It was nice to see more of Nigeria's beauty and diversity.  We spent a few days in Jos, 2 days in Abuja, and over a week in Kaduna.  With 36 States, you can almost view Nigeria as 36 countries rather than 1 country.
It was amazing to see the difference in climate and culture.  Where we live in the South it is purely tropical and mostly Christian, while the North is arid and mostly Muslim.  The city of Kaduna is right on the border between the two.  When you cross the river that divides the City, the scenery almost instantly changes from Churches to Mosques.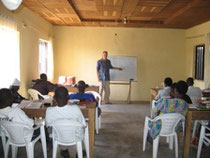 In Kaduna, we spoke at a couple of Churches, participated in a mission's convention, met with the ECWA/SIM leaders, and Eric taught for a week at in the YWAM DTS class.  Unexpectedly, we also came into contact with a grassroots home school organization.  We had a good brainstorming session and exchanged contact information.  We were pretty exhausted when it was time to come home.
Our time in Jos was much more relaxing with cool, dry weather, beautiful landscape, a loose agenda, and a plethora of foreign missionaries.  If it wasn't for a day of bad health and our excursion to Abuja, it would have felt like vacation.  In Abuja, we applied for Caleb's U.S. birth certificate and passport and officially added "Chinedu" to his full name.  As some of you have discovered, Chinedu means "God Leads" in Ibo.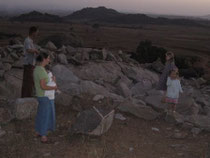 The photo on the left is overlooking the grounds at YWAM where they are in the process of building a retreat center.  In the back-left you see Ansel from Holland, who is a civil engineer doing all the planning.  Their property is about the size of 20 football fields and the project is estimated to be completed in 10 years.  Some of the buildings are already constructed, but you can't see them in this view.
We are happy to be home and are in the process of bringing what we learned back with us to the South.  We had an excellent time ministering, networking with other Christians, and planning future outreaches.
Your prayers and support are changing lives in Nigeria.
Happy Thanksgiving,
The Blacks
P.S.  For you NY'ers, we are looking for a volunteer to stop at the Nigerian Consulate in NYC to ask some questions we have concerning our Visas.  If you can make time, please respond to this email.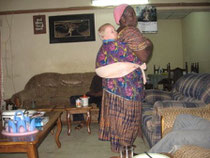 Dr. Hannah is instructing us how to carry babies Nigeria style.  Elijah is the guinea pig.  Dr. Hannah is the "Faith Reynolds of Africa."  She is a semi-retired Doctor who spends most of her time with her Church encouraging their many missionaries and constantly learning how their Church can serve them better.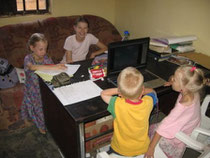 The children are doing their schoolwork in the back of the room while Eric is teaching the DTS at YWAM Kaduna.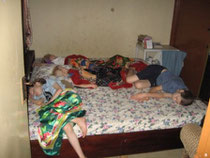 The children slept on a really big bed at Dr. Hannah's house in Kaduna.