February 2014 Newsletter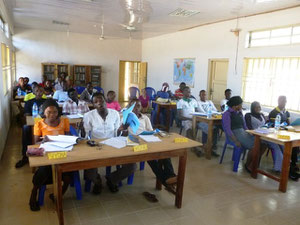 Our 2nd annual discipleship school is underway. This year we have 23 students, which is a 64% increase from last year. Gratefully, four of our students from last year are living at the school with the new students, leading small groups, and holding other various responsibilities. And Ode, who has been staffing with YWAM for years, is helping us again this year. Other former students are coming around during the daytime to volunteer too.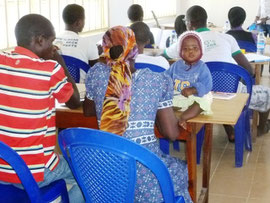 Eric spent 8 of the first 11 days sleeping at the school. Usually, 1 or 2 of the kids would sleep at the school with him. He will likely spend more nights at home now that the school is off to such a good start. Cindy comes most days at least for part of the day. Eric & Cindy tag team most of the teaching. But we are gradually incorporating the local pastors to help with some of the topics. Ode helps too.
The demographics of the students are quite diverse. There are 14 boys and 9 girls. Four of them are from nearby villages. Another one served in the Navy in the Niger Delta where the militants are killing and kidnapping. One of the students is a single mom with a 9-month old baby. Some of them are preacher's kids.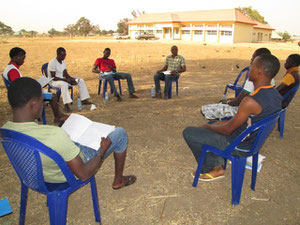 The following information will give you some insight on how to pray for our ministry. Some of our students told us that they went to take their last drugs on the day before the school started. One student said it was a practice in their home for the dad to tie the children to a tree and whip them. One of our students is a return from last year, who left early and spent about 3 months in prison. Many of them come from broken homes.
We are happy that they feel comfortable enough with us to share their struggles. Most of the students are eager to learn and grow in their relationship with God. Three of them have given their lives to Jesus since starting the school. Please be praying with us for lasting fruit.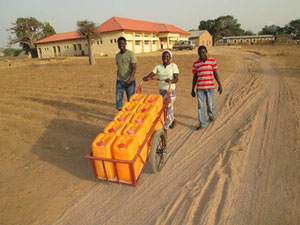 Please also pray for our water situation. We send teams 4 times a day to fetch water for the school. We have a push-cart with jugs and the nearest water supply is about a mile away. Students and staff all get their turns. You should see the response of the locals when they see a 40 year old white man pushing water down the street. One citizen commented that Eric must not have been able to find better work. We all seem to be coping, but we are praying for a better solution. 

Please pray for Jacob, a former student who is helping us staff. One night last week, some people came to his family's village and stole all of their cows. In this economy, it's probably equivalent to about 5 year's salary. It is encouraging to see Jacob's humble trust in God to find a peaceful resolution.
Also pray for Happy. She is a student who got sick on the 2nd day of school. She went to the clinic and still hasn't come back. She has a fever and low blood pressure. The malaria and typhoid tests came back negative. She was taken to Gombe city, about an hour away to receive better treatment.