April 2014 Newsletter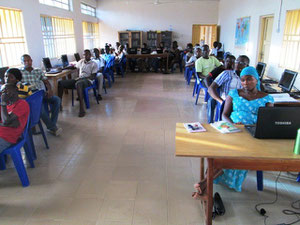 Our discipleship school is progressing as expected. We're in the second phase where we begin to devote more time for computer training and in-depth Bible studies. We have given them a creative Bible overview presentation and we are preparing them to teach it themselves when they go for their outreach. The students are also going through the Bible book-by-book using the inductive Bible study approach. We continue to provide practical teachings, meet in small groups, and do one-one counseling with the students regularly.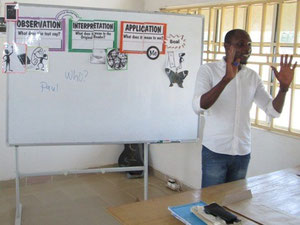 Most of our students are receiving a life-changing experience. They work hard to learn everything we are trying to teach them – in the classroom and out. We hear excellent reports from their parents and pastors. We give God the praise for that. He has been faithful to be strong when we are weak.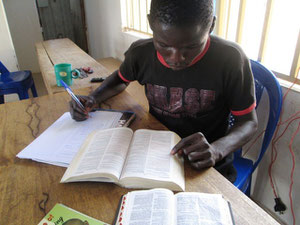 After assigning the students to go outside and individually read the book of Titus out loud and then return for class, one student excitedly exclaimed to his classmates "Honestly, I've never read the Bible like that before in my whole life!" His passion was contagious for the whole class.
We're extremely excited about the upcoming outreach team coming from our church, especially since Hannah will be among them! Six individuals have already committed to come. There might be room for a few more.  You can view more details about the outreach here.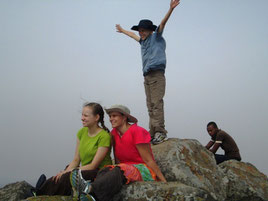 We are almost through the hottest season of the year. Most days, the temperature passes 100 degrees. As the rains slowly increase, the temperatures gradually decrease. As always, the coinciding mango season provides somewhat of a crutch to help us endure. A couple of weeks ago, we had a strong rain where the temperature got down to 80 degrees. We celebrated with hot chocolate.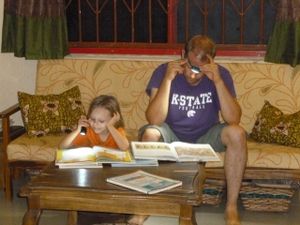 Usually, the electricity is also bad at this time of year. This year it proved to be even worse. We've gone almost 4 weeks without. If we go a few more days, it will surpass our previous record from when we lived in Aba. Even when running our generator for 3 or 4 hours in a day, we are unable to keep ice in the fridge.
Please continue to pray for the following:
One particular student who discovered that she was pregnant before she came to our school. Her father disowned her and her mother took her to Jos. She hasn't come back since, but we communicate with her occasionally.
Some of our students still struggle with unhealthy habits and addictions in their lives. Please pray that they will find total victory in the coming weeks.
Pray for the upcoming outreach for our students. The plan is to travel to the middle belt for evangelism, teaching, drama, and children's ministry. Also pray for provision for their school/outreach fees.
Pray for more laborers in the work. People in the community are asking us to run 2 discipleship schools per year instead of one. It has already been on our heart. But for that to be possible without neglecting our other priorities, we need more help.
In all aspects, pray for the upcoming outreach to Billiri from our home church.
Some Family Pictures
More Pictures of the Discipleship School
Mountain Climing Pictures
This set of students has been quite passionate about climbing the surrounding mountains on the weekends. At the top we'll take some time to pray and/or do a small Bible study. Depending on the level of difficulty, different members of our family will join.
Some of these pictures were taken from a mountain they call "Mystery Hills." At the top, there are thousands of pillar-shaped rocks which have been cut and stacked. Over time, they fell down, but you can still see how some of them were stacked. The Tangale people don't know where they came from.